SAP makes minor releases to SAP Business One periodically while in a current major release in order to resolve issues or provide new enhancements. There are a number of enhancements in the patch level releases for SAP Business One 9.2. Enhanced sales functionality, a chat feature, Concur integration and more are a few of the new features, and we'll cover them here.

If you are current on SAP maintenance for your SAP Business One, you are eligible to take advantage of major and minor releases of the software. Especially if you are already on SAP Business One 9.2, the patches are relatively easy to take.

If you are on an earlier version than 9.2, talk to your SAP partner about upgrading. Even if everything is working fine for you now, it helps to be prepared in the event something goes wrong. With older versions of SAP, if there is a software problem, SAP will tell us to upgrade you because they do not issue fixes to older versions of the software. It is a good idea to do upgrades on a regular basis because we are finding it much more difficult and time consuming to perform upgrades over several major releases. It is much easier and less risky to upgrade if you are only 1 or 2 versions behind the current release.

Make the most of your SAP maintenance, and take advantage of new feature while you keep your software current.

Live Collaboration Function:

As of SAP Business One 9.2 PL06, and SAP Business One 9.2 PL06, version for SAP HANA, there is a new feature called live collaboration. Similar to Skype and other chat programs, users can communicate without having to leave their desk for faster handling of business operations.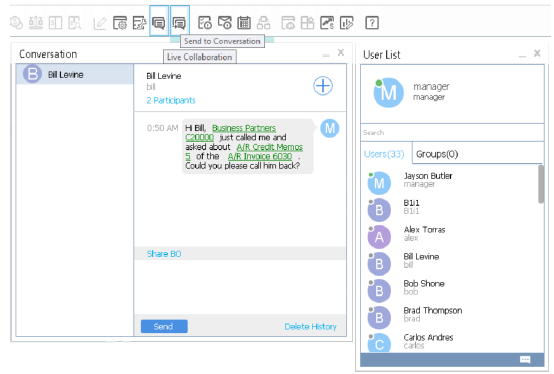 It also includes drill down links to SAP Business One business objects like marketing documents (sales quotes, sales orders, purchase orders) or directly to Business Partner or Item Master data records.

In Patch Level 8 additional enhancements were made. When you are included in a new conversation, and the conversation window is not open a red dot in the conversation icon will show. Also, more documents are available to select within a conversation window.

The following document types can be sent through "Share Data":

Sales Quotations

A/R Down Payment

A/R Invoices

A/R Correction Invoices

Purchase Request

Purchase Quotation

A/P Down Payment

A/P Invoices

A/P Correction Invoices

A/P Credit Memos

Incoming Payments

Deposits

Outgoing Payments

Checks for Payment

Journal Entries

Goods Issue

Goods Receipt

Inventory Transfer Request

Inventory Transfers

Production Orders

Pick and Pack

Outgoing Excise Invoice

Inventory Counting

Inventory Posting

Inventory Opening Balances