When your company is running SAP® Business One, and you have purchased licenses for your sales team they are able to use the SAP Business One mobile app for iPhone and iPad. With the mobile app, sales has access to your business information anywhere at any time. It helps sales people stay informed about the business, manage contacts, and handle sales activities.

What are the top tips for how your sales people can use the SAP Business One Mobile App?

Manage contacts and activities; all information is synced with SAP Business One and the on-device calendar

Create, edit or view sales opportunities, quotations and orders and handle service call activities

Monitor inventory levels and get product details, including purchasing and sales prices and photos

Let's view some screen shots for each of these areas. We're looking at SAP Business One for mobile version 1.11.6.

Viewing Business Partners, Contact Information and Activities in the SAP Business One Mobile App

In SAP Business One, your business partners can be customers, prospects or vendors. Business partner (BP info) records contain the company data. Contacts are the people related to those business partner companies.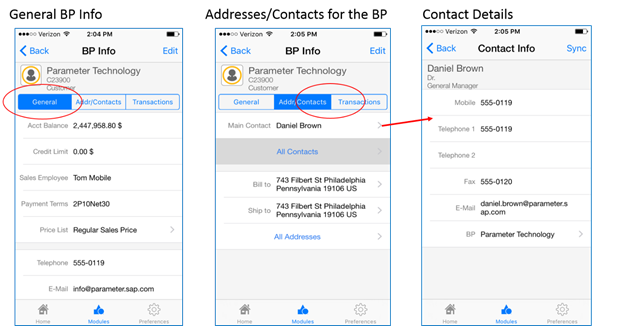 Activities are phone calls, meetings and other interactions with contacts that are either things to do in the future, or things done in the past. Either way, activities you create become a permanent record against the contact or company.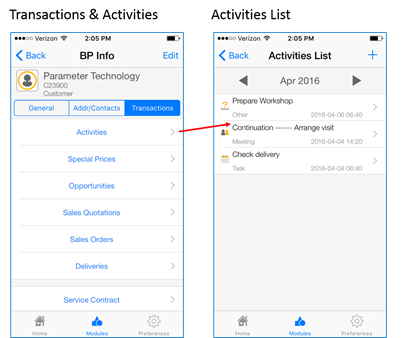 Create, Edit or View Sales Opportunities, Quotes and Orders in the SAP Business One Mobile App

Sales opportunities are a way to record a sales pursuit with a prospect or customer. In the opportunity you define what you are trying to sell, give an estimated dollar value of the opportunity, and track the pursuit across your sales stages. You can manage your open, won or lost opportunities or create new opportunities.

Create a sales quotation when you want a document for a customer to review before they commit to ordering. If price lists are defined for your customers, unit prices appear based on the price list assigned to the customer or lead. You can upgrade a sales quotation to a sales order, or create a sales order from scratch. A sales order is an important document – it means your customer has committed to the order and your company has committed to deliver their items or services in full by a certain date.

Monitor Inventory and Get Product Details, Including Purchasing/Sales prices

The Inventory module in the SAP Business One mobile app shows all the items that are sold, purchased and inventoried in your business.

To see all the prices and discount information associated with an item, just use the arrow next to unit price. You can also review the inventory by warehouse to see the available, in stock, ordered and committed quantities by warehouse for every item. When you can easily see quantities, you can set customer expectations for order delivery more accurately.

Summary of the SAP Business One Mobile App for Sales

With the SAP Business One mobile app for iPhone and iPad, you get immediate access to the most relevant information to enable you to run your business from any location, at any time. This app allows you to access the SAP Business One application for small businesses. You can stay informed about the business, view reports, manage contacts, and handle sales, service, and operational activities.

Manage tasks and activities:

View tasks and scheduled activities

Display, update, and add activities for a specific customer or partner

Get alerts and manage approvals:

Get alerts on deviations from approved prices, credit limits, stock, or targeted gross profits

View and complete approval requests and drill into the relevant data or metrics

Manage sales and service activities:

Manage sales opportunities, sales quotations, and sales orders

View detailed price lists and discount information

Access, view, and update service contract details

View, pick up, and add activity to service calls

Check on-hand inventory and detailed item data

See product available to promise (ATP)

Manage customer and partner data:

Access and update customer and trading partner information

View pervasive analytics on business partners

Access real-time reports:

Access built-in dashboards and reports from SAP Crystal Reports

Monitor and predict cash flow with key performance indicators

Add customized reports to the application and share them via e-mail

Licensing and availability:

Download the free app from the Apple App Store and use it for trial and demonstration purposes.

Run with SAP Business One, SAP Business One, version for SAP HANA, or the SAP Business One OnDemand solution as your back-end system for business use.