How To: Create 2019 Posting Periods in SAP Business One


Our SAP Business One consultants recommend that you create your 2019 posting periods in SAP now if your fiscal year is the same as the calendar year (and it has not already been done).

Bear in mind the following important caveats:

-- The beginning of the fiscal year can only be the first day of the month

-- Once created and transactions are posted, a posting period cannot be removed. The date ranges can change, but it can't be removed.

Here is a walkthrough of setting up the 2019 posting periods based on the calendar year: Administration – System Initialization – Posting Periods. Review your posting periods to see if 2019 has been created.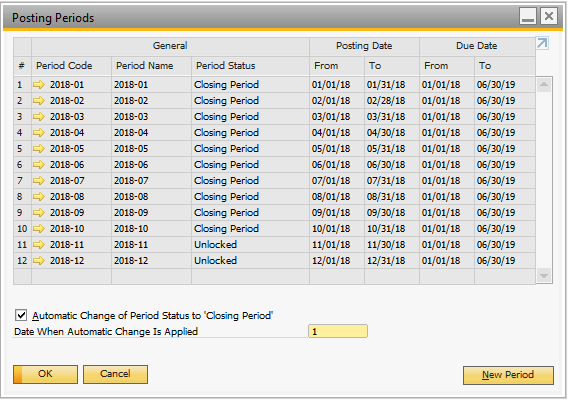 If you do not have any 2019 period codes, click on the New Period button. The Dates, Start of the Fiscal Year, and Fiscal Year will all fill in automatically as shown below.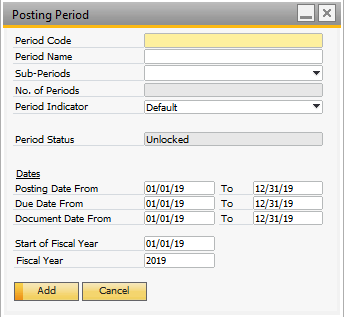 Enter the information that is shown below.


Note: In the Due Date To field, you do not have to put 06/30/20. SAP will prefill that date with 12/31/19. If you leave the SAP prefilled date, you will not be able to have a document due date that goes into 2020 unless you go into each period that is created and individually change the due date on each posting period. This is just an easy way to extend the due dates for all the 2019 periods during creation. When it is all correct, click on Add.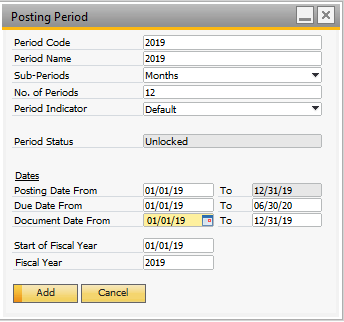 Review your posting periods. You should now see 2019 in your list: